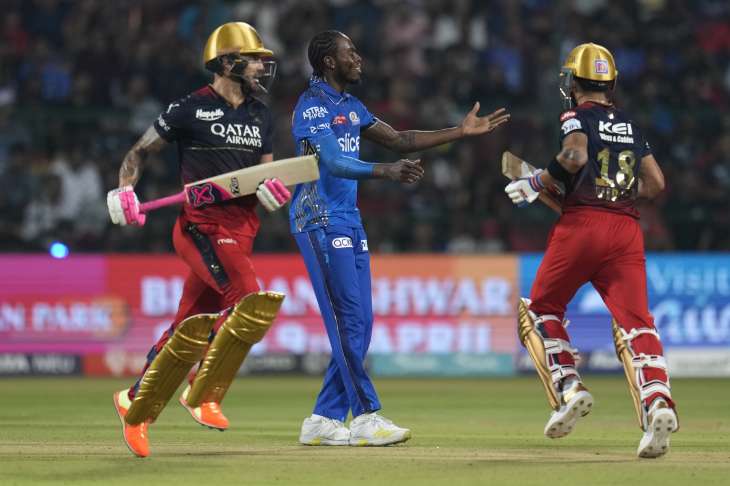 Mumbai Indians have suffered a major blow as their fast bowler Jofra Archer is unlikely to play in the game against Kolkata Knight Riders, PTI reported. Archer played in the team's season opener against Royal Challengers Bangalore (RCB) but has since been sidelined with a fresh elbow problem. With Archer out, MI remain vulnerable on the bowling front in their clash against KKR.
MI batsman Tim David said that Archer is currently under the observation of the medical team and he is not in a position to give any further information. "At the moment Joff is being managed by the medical team and I am not part of those conversations. Whenever they make him ready to play, he will be ready to go," David said during the pre-match presser ahead of the KKR clash. Will be ready." Archer bowled a bit in the training session on Saturday afternoon and then batted comfortably, playing some big shots.
Meanwhile, Tim David also praised KKR batsman Rinku Singh's six-hitting skills in the latter, saying that it is very difficult for batsmen like him to plan. "They (KKR) have got some dangerous batsmen and (if) our bowlers get them out (early) then it will be a perfect start for us. But no, planning is difficult, I think. We can focus more on ourselves. We are focused and we want to play a good game and we know when we play our best cricket we will reach the top.
MI have an excellent record against KKR at the Wankhede Stadium winning eight out of nine matches so far. "I am not sure how many games I have played so it is difficult to comment on that. It is a new (MI) team but it is our home ground. As a home team we get a lot of support here and we treat it as our home ground." We want to get good results all the time and we want to be confident about the style of cricket that we want to play here and take on every team," David said.