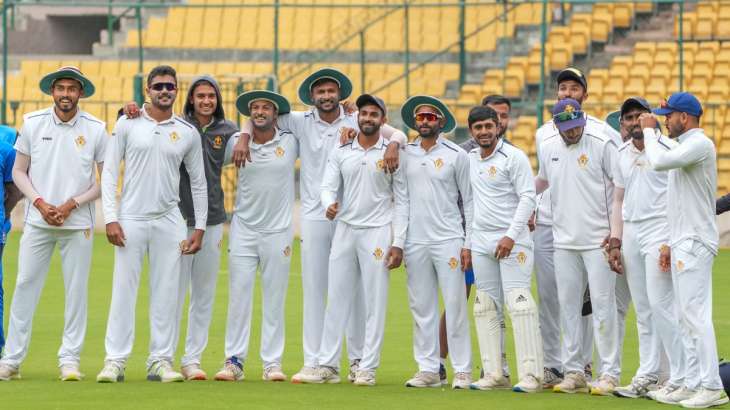 Jay Shah, secretary of the Board of Control for Cricket in India, on Sunday, announced an increase in the prize money for Indian domestic tournaments. The increase in prize money has been done for other tournaments like Ranji Trophy, Vijay Hazare Trophy, and Senior Women's One Day.
Sharing the development on Twitter, Jay Shah wrote, "I am delighted to announce an increase in prize money for all BCCI domestic tournaments. We will continue our efforts to invest in domestic cricket – which Is the backbone of Indian cricket. Ranji winners get ₹5 crores (from 2 crores), senior women winners ₹50 lack (from 6 lacks)".
Recently BCCI announced the schedule of the 2023-2024 domestic season. The BCCI on Tuesday (April 11) announced the schedule for the 2023-24 domestic season. The season will start in June and matches will run till March 2024. 1846 matches will be played during this period, with the season starting on June 28 with the Duleep Trophy. Deodhar Trophy will start in July while in October, Irani Cup will be played. While the Duleep and Deodhar Trophies are zonal tournaments, the Irani Trophy will see the Rest of India team take on the Ranji Trophy winners from the previous edition.
The domestic T20 competition, the Syed Mushtaq Ali Trophy, will begin after the Irani Cup ends on 16 October and run till 6 November. Notably, the performers in this tournament get a chance to be selected in the IPL auction which is usually scheduled in December. month. Another marquee domestic white-ball tournament, the Vijay Hazare Trophy, is scheduled to begin on November 23 and go on till December 15. Thirty-eight teams will compete in these two tournaments, with two groups of seven teams each and three groups each. 8 teams each.
The much-awaited tournament of the season, the Ranji Trophy, will begin on January 5, 2024, and go on till March 14. Here, the 38 competing teams are divided into five groups – four elite groups each containing 8 teams and a plate. Groups with six teams in it. The top 2 teams from each Elite Group will qualify for the quarter-finals while the top four teams from the Plate Group will qualify for the semi-finals.