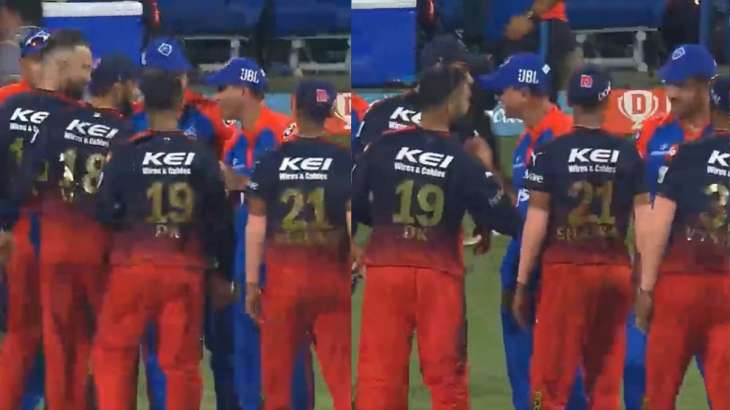 In the 20th match of the Indian Premier League (IPL), Royal Challengers Bangalore (RCB) defeated Delhi Capitals (DC). Apart from the game, it was also a face-off between Virat Kohli and Sourav Ganguly, who is currently the Director of Cricket in DC. The two had a falling out about a year ago when Virat Kohli was hastily dropped as ODI captain after stepping down as T20I skipper. Ganguly, the then BCCI president, and Kohli had different versions of the captaincy drama and things have not been well between them since then.
Well, another interesting incident confirms that all is not well between the two stalwarts of Indian cricket. They came face to face at the end of the match on Saturday and as the video has gone viral on social media, it can be seen that both Kohli and Ganguly did not shake hands with each other. Both the teams were going through the traditional post-match handshake. Sourav Ganguly was right behind DC head coach Ricky Ponting who shook hands with RCB batsman Kohli and also stopped him to say a few words.
During this, Ganguly was seen breaking the line and shaking hands with the rest of the RCB players and staff. Virat Kohli soon realized this and looked back twice before continuing the handshake. The incident did not go unnoticed and the video soon went viral on social media.
Here's the video:
Virat Kohli was also adjudged player of the match for his brilliant innings of 50 off 34 balls while opening the innings. "It was a tricky one. When it went up in the air, I made sure no one was too close to me. I made sure I caught it firmly. I was quite frustrated to be out for a full toss I was playing really well. I wanted to make sure that after the fifty, I was aiming for 30-35 runs in the next 10 balls. That's how I play. It should help us get past 200 Meets.
"One thing I told the guys in the change room was that 175 was enough on this pitch. It slowed down a lot when the spinners came in. Even balls that hit Kuldeep's backfoot were stopping, unlike other games. Quite the opposite we played. We did well to get to that score and believed it was enough. When I have played my best cricket, those are the balls I have consistently put away (length balls up). That made me The pressure on the bowlers helps
"When I put their best balls away, they're going to try something else. I back myself to hit the good balls and the best bowlers in the opposition. That's how I open myself up to play out there." I encourage you to do it. I am very happy to have two. Number. We let it slip in the last two games. It was very important for us to come back like this. It was a different mindset and stage (T20 World Cup 2016 semi-final). I was at a place where I felt I could hit any ball. I back myself to hit good shots. When they come out they look good," Kohli said at the presentation ceremony. "